Thank You Trump: That Tweet Was Just What China Needed To Tame Pakistan
US president's outburst and Washington's decision to punish old ally comes at an opportune time for Beijing, which has been facing uncharacteristic push-back from Islamabad
In South Asia, there is one clear winner from Donald Trump's tweet tantrums this week: China, which suddenly finds its leverage over Pakistan multiplying as a result of the US president's mood swings.
Alongside his provocative tweets about North Korea, Trump opened the year by letting fly at Pakistan, which he attacked for not doing enough to root out jihadists.
"The United States has foolishly given Pakistan more than US$33 billion in aid over the last 15 years, and they have given us nothing but lies and deceit, thinking of our leaders as fools," Trump wrote in his first tweet of the year. "They give safe haven to the terrorists we hunt in Afghanistan, with little help. No more!"
Islamabad reacted sharply, summoning the US ambassador to complain and calling the tweet "completely incomprehensible". The Pakistani government also blamed the US for "great insensitivity", breaking the "trust between two nations built over generations" and negating "decades of sacrifices made by the Pakistani nation". The White House responded by suspending all military assistance.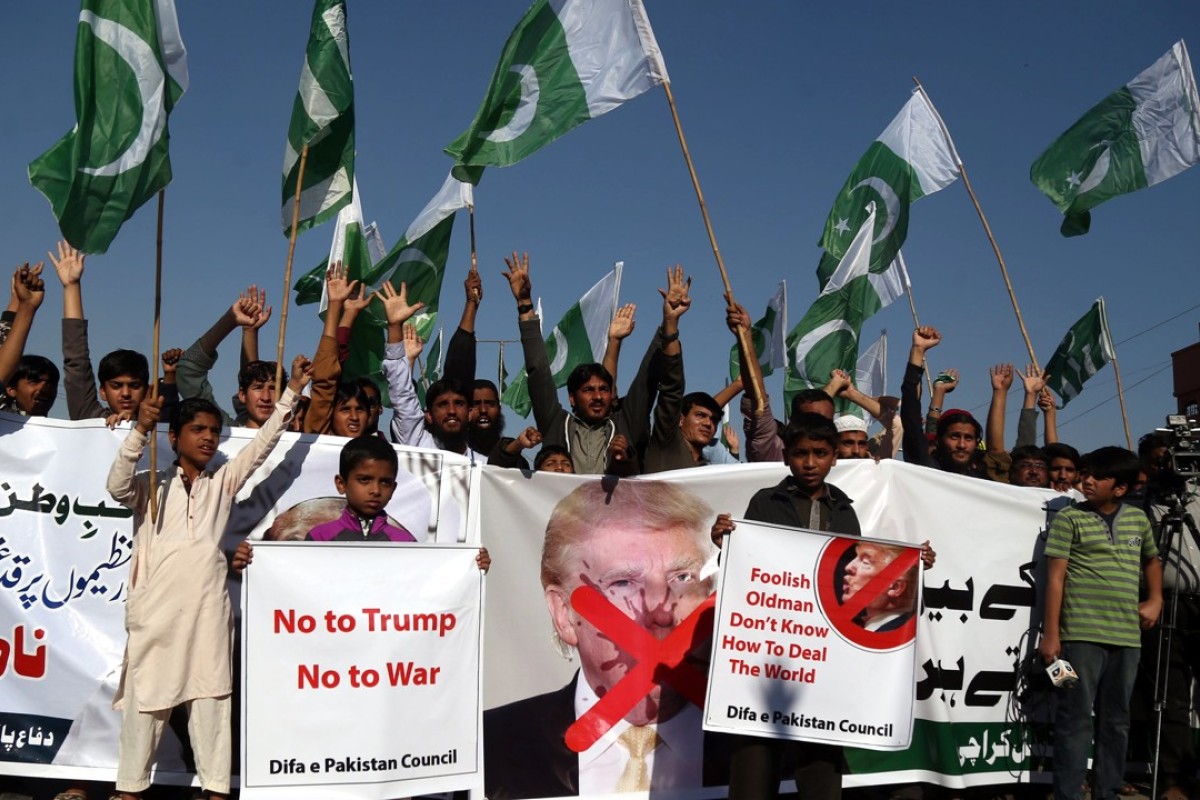 Islamists protesting against Trump's strong statement against Pakistan sponsoring terrorism in the region and beyond
Apart from the US$255 million in foreign military assistance the US suspended on August 31, all financial aid to buy US military equipment now remain suspended. The Pentagon's budget for fiscal year 2017 amounts to US$900 million for Pakistan. The total amount of US aid that could be frozen as a result of the suspension could well be over US$1 billion.
Trump's tweet reflects his growing frustration with Pakistan for not properly tackling the Haqqani network and the Afghan Taliban, the two militant groups that have successfully defied Washington's counter terrorism efforts in Afghanistan. However, it remains unclear what exactly Trump's comments will achieve.
The United States has foolishly given Pakistan more than 33 billion dollars in aid over the last 15 years, and they have given us nothing but lies & deceit, thinking of our leaders as fools. They give safe haven to the terrorists we hunt in Afghanistan, with little help. No more!
— Donald J. Trump (@realDonaldTrump)
January 1, 2018
Islamabad is unlikely to yield as it considers these organisations strategic allies, vital to lasting peace in Afghanistan. It is just as unlikely to decisively uproot the infrastructure of insurgent groups, such as the Jamaat-ud-Dawa (JuD), which form the core of its alleged policy of using non-state actors against India.
Trump might only succeed in pushing Islamabad deeper into Beijing and Moscow's sphere of influence. After Trump's tweet, China sprang to Pakistan's defence, saying the world should acknowledge its all-weather friend's "outstanding contribution" to counterterrorism. China supports Pakistan's position of seeking rapprochement with the Taliban and eventually giving them a central role in any political settlement in Afghanistan.
Trump's outburst came at a particularly opportune time for China, which has been facing uncharacteristic resistance from Pakistan over its high-stakes US$62 billion China Pakistan Economic Corridor (CPEC) project that runs from the deep-water Pakistani port of Gwadar on the Arabian Sea to China's Xinjiang province.
A month ago, Pakistan pulled out of a mega-dam project under the CPEC, citing the tough financial conditions China set for the project. Should Pakistan become more isolated internationally, as Trump has threatened, it would make it far easier for China to advance the project.
"Pakistan will have to do some tightrope walking in terms of its negotiations with China," said Huma Baqai, a public policy analyst at the Institute of Business Administration in Karachi. "Already, there is a lot of internal debate about how China is pushing Pakistan with its economic plans and whether Pakistan's interests are being served adequately."
She added that even though China has gained influence over Pakistan, it is also aware of the debate within Pakistan about the "transparency" of CPEC projects.
"Pakistan doesn't prefer confrontation with Washington, for it only increases Pakistan's dependency on China, which has its own implications," Baqai said. "But that doesn't mean that Islamabad will agree with Washington's 'to-do list', which Pakistan considers against its strategic interests in Afghanistan."
In light of Trump's hard line, the Central Bank of Pakistan allowed the use of Chinese currency for bilateral trade and investment activities.
"In terms of regulations in Pakistan, CNY is at par with other international currencies such as USD, euro and Japanese yen," the bank said in a statement.
The central bank's decision is significant given Islamabad had been resisting this demand from China. But one tweet from Trump managed to achieve what months of intense pressure and lobbying from Beijing could not.
As the Pakistani economy does not have any viable strategic options in terms of attracting international financial assistance if the US chooses to tighten the noose, it will not only become more dependent on Beijing for economic and security assistance, but political and diplomatic support as well. None of this can be good for American interests in the region.
"I don't think Pakistan will roll back its policies just because the US decided to stop funding," said Shoaib Pervez, from the University of Management and Technology in Lahore. "Washington needs to reconsider its policy, which doesn't pay heed to Islamabad's regional security concerns, and is only allowing space for Chinese influence to grow in the region."
For now, any US hard line would also strengthen the same far-right Islamist forces that Trump wants to see punished. In an election year, it will not only help these Islamist groups rally support by ramping up anti-US propaganda but also place additional pressure on the government to cut ties with Washington.
The JuD held protests in Lahore last week, calling for the expulsion of the US ambassador. It is led by Hafiz Saeed, who also founded the militant group blamed for the 2008 Mumbai terror attacks.
Difa-e-Pakistan Council (Defence of Pakistan Council), a group of religious-political parties, has also staged protests in Karachi, burning a US flag and a picture of Trump. Other local fundamentalist groups have called for a holy war against the US.