Why Just Sidhu, PM Modi Should Also Meet Imran Khan, Says Slain Rifleman Aurangzeb's Father
Aurangzeb's father Mohd Hanif
Talks is the only way of solving issues between the two countries. Sidhu hugged the Pak Army chief, the latter should come to India too
New Delhi: Former cricketer and leader Navjot Singh Sidhu, who has been criticised for having attended Pakistan Prime Minister Imran Khan's swearing-in ceremony, has found support in the father of the slain Army rifleman Aurangzeb. Speaking to ANI, Mohd. Hanif said on Tuesday, "Sidhu saab met Pakistan Army Chief, I think he (Pak Army Chief) should also meet us. I'd like to say to Imran Khan that if they take a step forward towards us, we'll take 100 steps towards them."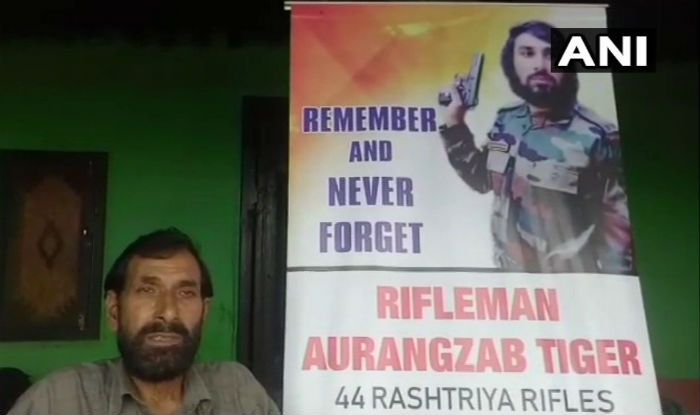 He didn't stop at that. Mohd Hanif called for a dialogue between the two countries and said that was the only way out of the festering issues. "I request PM Modi to meet Imran Khan. There should be such an understanding between the two countries that no person is killed and both the countries should develop," he said.
Hanif's son, rifleman Aurangzeb, was abducted and killed by terrorists in Pulwama on June 14. After his death, his family had appealed to Prime Minister Narendra Modi, the Army and the Jammu and Kashmir government to eliminate militancy from the state and avenge his death. Meanwhile, 50 villagers heard the appeal and left their jobs in Saudi Arabia to join the police or the Army to avenge Aurangzeb's death, an NDTV report said.
On Aurangzeb's burial, his brother had said, "I appeal to Prime Minister Narendra Modi to take swift action in this. 100 of their people should pay the price, for the death of my brother. If you (the government) is not able to do so, then tell us, we will do it ourselves." His father _ a retired Army personnel _ had requested the Central and state governments to eliminate militancy from Jammu and Kashmir. "My son has abided by his pledge, he has kept his promise. He sacrificed himself for the nation and came back to me. I request the Central and state governments to eliminate militancy," he had said.