Controversies Aside, Rafale & Tejas Will Add Sparkle To Aero India
HEAVY METAL: C-130J during a practice sortie at Yelahanka Air Force Station on Thursday
BANGALORE: Even as the debate rages over India's deal with Dassault Aviation and criticism heaped on HAL-manufactured aircraft, the latter's LCA Tejas and former's Rafale will scorch the runways at the Yelahanka Air Force Station during the five-day Aero India 2019 beginning next Wednesday.
While three Rafale aircraft landed in Bangalore on Wednesday, at least six Tejas aircraft, including one flying in the Indian Air Force (IAF) colours, will be the cynosure of all eyes.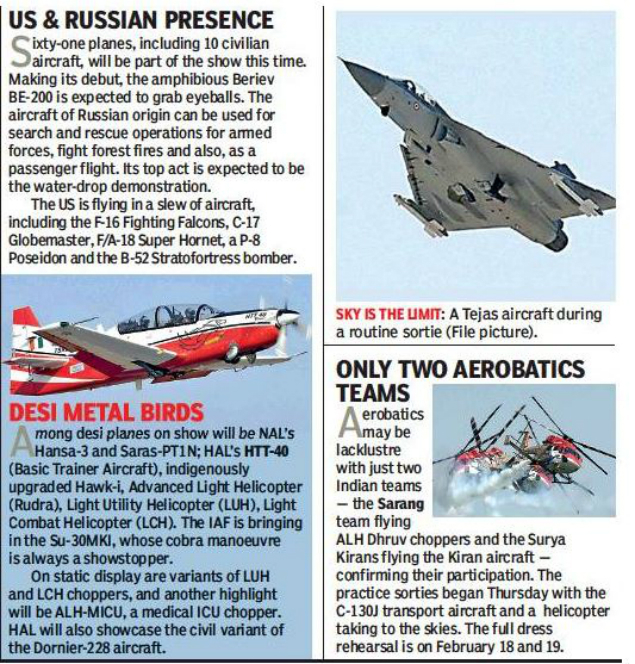 Among Tejas variants are two Naval versions (one on static display), two Tejas MK1 aircraft and one Tejas initial version on static display and two MKI trainer variants which will fly. Of the three Rafales, one will be on static display.
Both the Gripen fighter by SAAB and Eurofighter Typhoon built by a European consortium, which drew crowds during the 2011 and 2013 editions of Aero India when India's Medium Multi-role Combat Aircraft (MMRCA) deal had not been finalised, will not be there this time.
The Rafale, at Aero India continuously since 2011, has been a popular plane. India signed an agreement to procure 36 Rafales — to form two squadrons — to reinforce IAF which is coping with depleting fighter plane squadrons. While the government claimed that the first aircraft, with all India-specific upgrades, will reach India by this September, the opposition has alleged corruption in the deal.
There will be 61 planes participating this time, including 10 civilian aircraft. Making its debut, the amphibious Beriev BE-200 is expected to turn heads. The aircraft of Russian origin can be used for search & rescue operations for armed forces, fight forest fires and as a passenger aircraft. Its top act is expected to be the water-drop demonstration.
The US is flying in a slew of aircraft, including the F-16 Fighting Falcons, C-17 Globemaster,, F/A-18 Super Hornet, a P-8 Poseidon and the B-52 Stratofortress bomber.
Among desi planes on show will be NAL's Hansa-3 and Saras-PT1N; HAL's HTT-40 (Basic Trainer Aircraft), indigenously upgraded Hawk-i, Advanced Light Helicopter (Rudra), Light Utility Helicopter (LUH), Light Combat Helicopter (LCH). The IAF is bringing in the Su-30MKI, whose cobra manoeuvre is always a show-stopper.
On static display are variants of LUH and LCH choppers, and another highlight will be the ALH-MICU, a medical ICU chopper. HAL will showcase the civil variant of the Dornier-228 aircraft.
Only Two Aerobatics Teams
Aerobatics may be lacklustre with just two Indian teams, the Sarang team flying the ALH Dhruv choppers, and the Surya Kirans, flying the Kiran aircraft, confirming participation. The practice sorties began on Thursday with the C-130J transport aircraft and a Chetak helicopter taking to the skies. The full dress rehearsal is on February 18 and 19.