After Pak Army Chief Spokesperson Slams SRK Over Bard of Blood, Fans Ask 'Kashmir Mila Kya?'
After Sacred Games, Netflix's next Indian original that everyone is looking forward to is Bard of Blood, an edge-of-the-seat thriller which has been produced by Shah Rukh Khan. When the Bard of Blood trailer was released yesterday, people were discussing their opinions on it on social media and so was Pakistan Army's chief spokesperson Major General Asif Ghafoor.
Major General Asif Ghafoor slammed Shah Rukh Khan and said that he should rather "promote peace" and speak against the "atrocities in Jammu and Kashmir"
"Stay in Bollywood syndrome @iamsrk. For reality see RAW Spy Kulbhushan Jadev, Wing Comd Abhinandan & state of 27 Feb 2019. You could rather promote peace & humanity by speaking against atrocities in IOJ&K and against Hindituva of Nazism obsessed RSS. (sic)," he wrote in the tweet.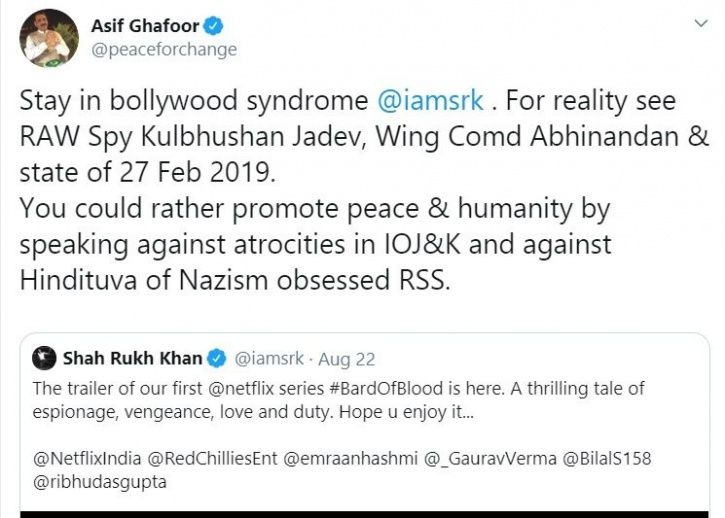 Pak Army Chief Spokesperson slams Shah Rukh khan over bard of blood and gets trolled.
For the unversed, Bard of Blood is based on Bilal Siddiqi's espionage thriller namesake novel that stars Emraan Hashmi in the role of excommunicated RAW agent Kabir Anand who is called back to service after four of the intelligence officers are held captive by Pakistan.
As soon as Pakistan Army's chief spokesperson Major General Asif Ghafoor tweeted this, he was trolled by Indians.
#1
#2
Doesn't this man have any other kaam dhandha other than trolling film celebs?
#3
Asif bhai SRK se bhi loan chahiye kya? 🤣🤣
#4
In other words hanks for promoting the series in Pakistan 😂 😂 😂

I thought Indian MOVIE, SERIES. ADs are banned in Pakistan.

Yet you are watching it.



#5
Sir..Yeh sermon ghused do apne pichhu jaha suraj nahi ugata...
#6
#7
When Asif Ghafoor leaves his post as DG ISPR, he'll no longer be allowed to use twitter as a serving General, right?




His conduct from his personal account is becoming a bit unprofessional. What are you doing man tagging SRK giving him lessons in diplomacy?



#8
Dear SRK.

Don't get over emotional over his comment. They just want you to purchase whole Pakistan.

It's a cheap selling gimmick.



#9
SRK is receiving so much hate from Pakistanis. The amount of hate is so much that in any moment he can tweet to thank Pakistan for promoting Bard Of Blood for free.
Major General Asif Ghafoor's tweet comes at a time when the tensions between both the countries are on the rise. Recently, Priyanka Chopra was also lashed out at because of her tweet in Feb in which she is cheering for the nation after the Balakot air strikes in Pakistan. Pakistan government wrote to the UNICEF demanding her removal as Goodwill ambassador for peace. However, UN spokesperson said that she retains the right to speak in personal capacity.
Source>>