Pakistan's PM Imran Khan Condemns Abrogation of Articles 370 & 35A
Pakistan Prime Minister Imran Khan's PTI has officially condemned the announcements made by India on abolishing Article 370, saying that no unilateral step by the Government of India can change this disputed status, as enshrined in the United Nations Security Council (UNSC) resolutions.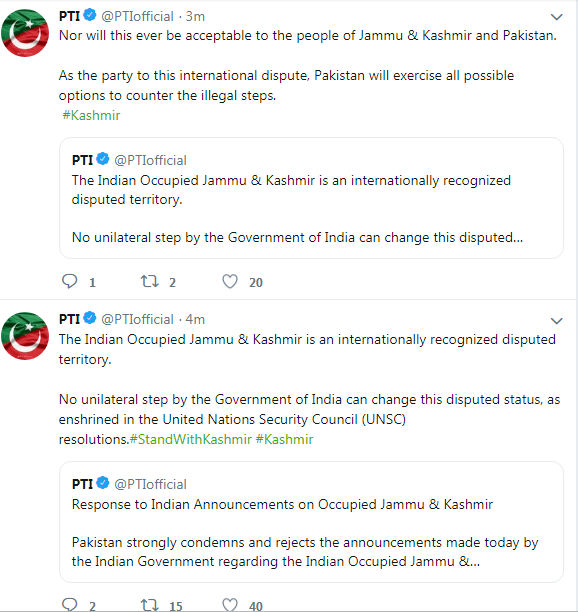 Pakistan reaffirms its abiding commitment to the Kashmir cause and its political, diplomatic and moral support to the people of Occupied Jammu and Kashmir for realization of their inalienable right to self-determination.

#Kashmir https://t.co/4Q3muZgB9H
Pakistan on Monday slammed India's move of revoking Article 370 of its constitution, saying that New Delhi's unilateral move could not change the nature of the Kashmir dispute.
In a statement, the Pakistan foreign ministry said Islamabad will exercise all possible options to counter the illegal steps, being a party to the international dispute.
The Pakistani response followed Union Home Minister Amit Shah on Monday stating in parliament that the government was revoking the article that gave a special status to Jammu and Kashmir.
Article 370, enacted in 1954, lays down that except for matters related to defence, foreign affairs, communications and issues specified in the Instrument of Accession of Jammu and Kashmir, parliament needs the state government's ratification for all other laws. So far, residents of the state lived under a separate set of laws, including those related to citizenship, ownership of property and fundamental rights.
On Monday, Shah also announced that the government was bifurcating the state into two Union Territories