HATE PROPAGANDA: Pakistan Army Places 'Bomb' In Kartarpur Gurudwara To Instigate Sikhs Against India
A banner that accompanies the 'bomb' says that the Indian Air Force dropped this bomb during the 1971 India-Pakistan war on the Gurdwara to destroy it
In what can be termed as hate propaganda, Pakistan Army has placed a 'bomb' inside the Kartarpur Sahib Gurdwara premises to instigate the Sikh community against India.
A banner that accompanies the 'bomb' says that the Indian Air Force dropped this bomb during the 1971 India-Pakistan war on the Gurdwara to destroy it.
"Indian Air Force dropped this Bomb during 1971 at Gurdwara Darbar Sahib Sri Kartarpur Sahib with the aim to destroy it. However, this evil design could not be materialised due to BLESSING of WAHEGURU JI (Almighty ALLAH) The Said Bomb landed into Sri Khoo Sahib. (Sacred Well) and this Darbar Sahib remained unheart.It is pertinent to mention that This is the same sacred well From where Sri Guru Nanak Dev Ji used to get water to irrigate his fields," [sic] reads the banner.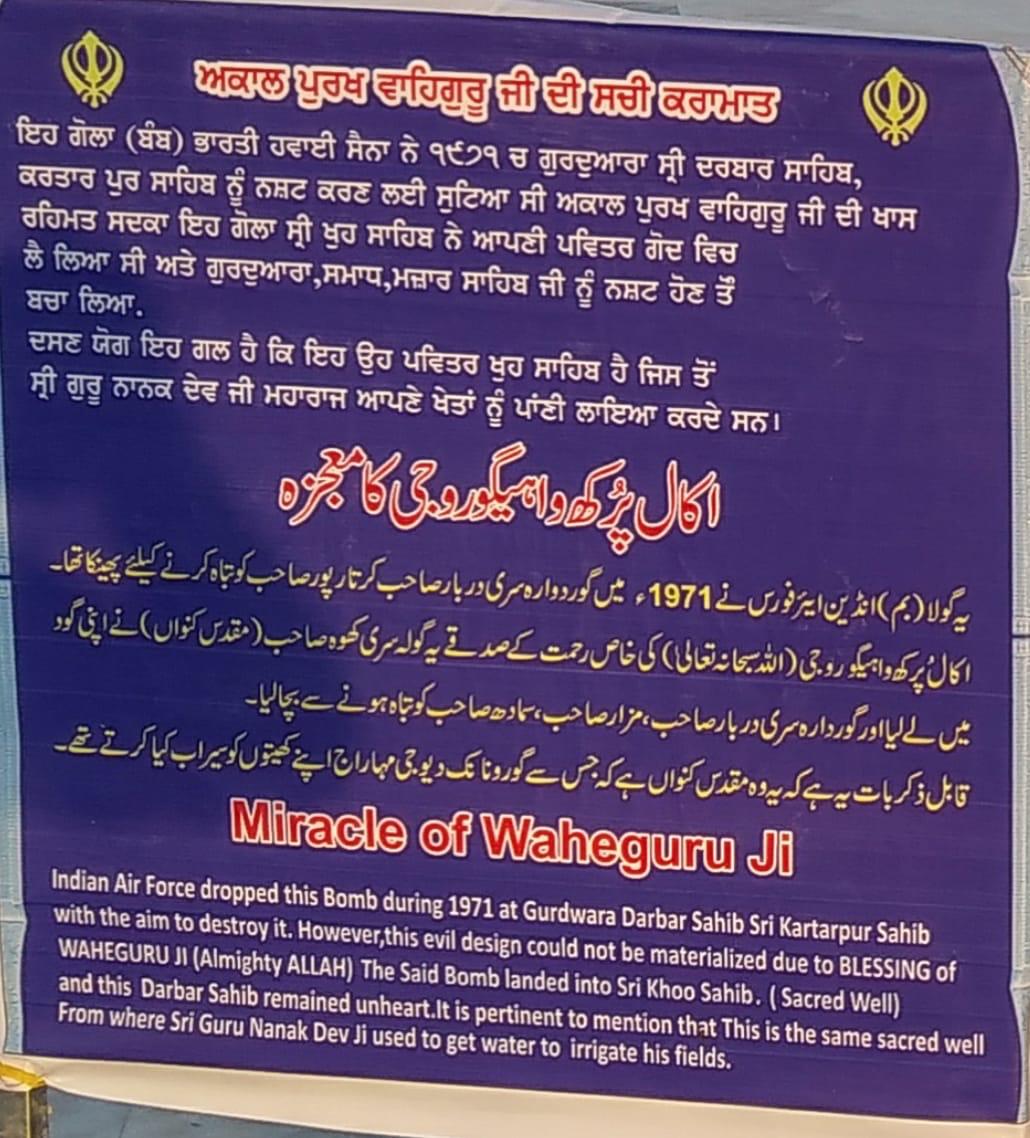 Yesterday, India had strongly taken up the issue of the use of pictures of Khalistani separatist leader Jarnail Singh Bhindranwale in the official video released by Pakistan ahead of the inauguration of Kartarpur Corridor. Slamming Pakistan on the issue, sources in India said this shows "the nefarious designs by the establishment on the other side."
The photos of Bhindranwale, Major General Shabeg Singh, and Amrik Singh Khalsa, all of whom were killed in Operation Blue Star, featured in the video released by Pakistan's Ministry of Information and Broadcasting to commemorate the 550th birth anniversary of Guru Nanak Dev Ji.
Punjab Chief Minister Amarinder Singh also slammed Pakistan over the video saying that Islamabad has a "hidden agenda" behind the opening of Kartarpur corridor.
While the inauguration of the Kartarpur Corridor on the Indian side will take place on November 8, the ceremony on the Pakistan side will be held the next day. The corridor connects the Dera Baba Nanak shrine in Punjab's Gurdaspur with Gurdwara Darbar Sahib Kartarpur in Pakistan.
Last year, both India and Pakistan agreed on the opening of the Kartarpur corridor on the 550th birth anniversary of the founder of Sikhism Guru Nanak Dev. Guru Nanak spent the last 18 years of his life in Kartarpur which is just a few kilometres away from the International border with India.