INS Sindhushastra Submarine Docks In TN As Chinese Presence Grows In The Region
A state-of-the-art Navy submarine the INS Sindhushastra has arrived at the V. O. Chidambaranar Port Trust in Tuticorin in Tamil Nadu, India some 250 kilometers away from Sri Lanka.
According to Indian media reports, the arrival of the INS Sindhushastra is seen as strengthening the South Indian Coast Guard as there is a growing Chinese presence in the Indian Ocean region.
It is reported that the submarine docked at the Thoothukudi dockyard to repair a technical malfunction and to refuel with petrol, diesel, and basic necessities.
It is also reported that the submarine may have arrived for a war rehearsal in the Mediterranean.
The INS Sindhushastra is said to be docked at the port of Tuticorin for another week.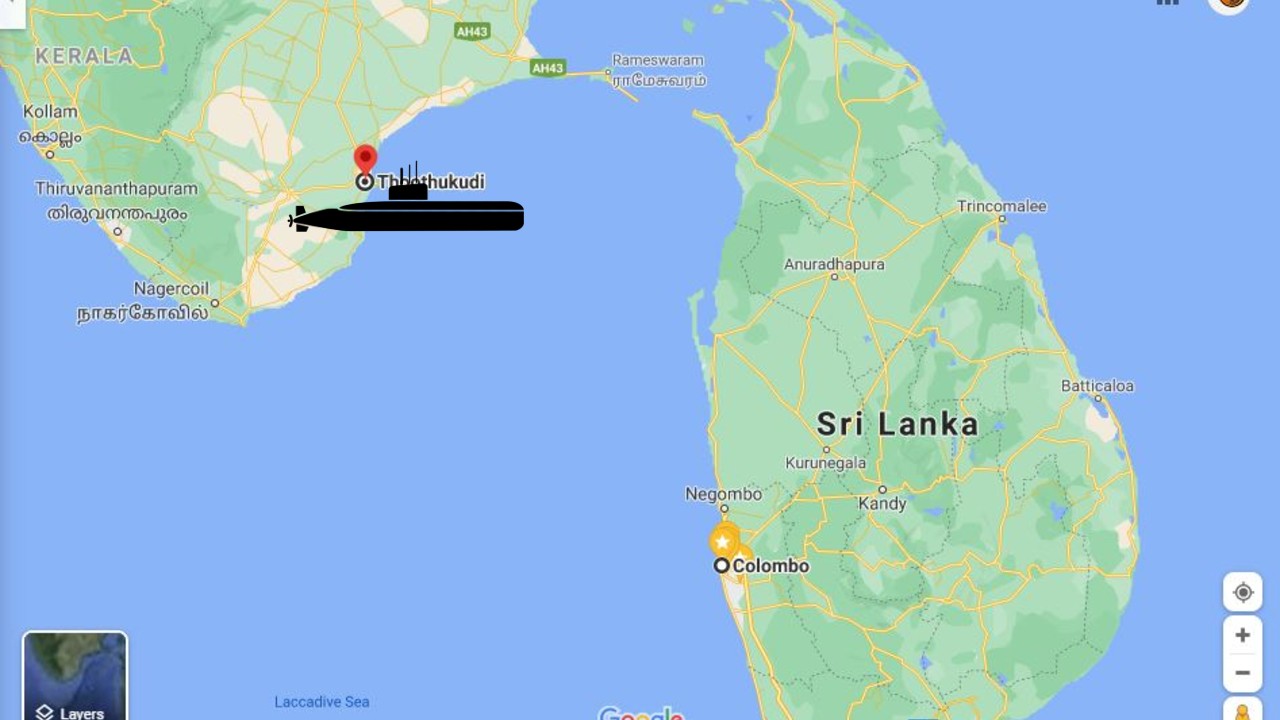 According to Indian media reports, however, no official information has been released on behalf of the Indian Navy. The High Commission of India said that it does not comment on such operational matters, including those that pertain to the Indian Navy.
However, decisions regarding the deployment of submarines or other national assets by India are taken by the Indian authorities concerned in line with several factors, such as operational requirements, and so as to fully serve the objective of protecting India and her interests, it added.
Media reports note that China has recently embarked on efforts to increase its naval capabilities with Sri Lanka in the Bay of Bengal with Chinese companies having leased ports in Sri Lanka.
The reports further add that tensions in Ladakh, a northern part of India, have not completely abated as China continues to cross the border region and despite repeated talks, complete peace has not been achieved.
In this context, India is strengthening its navy off the southern Tamil Nadu coast of Sri Lanka, it is reported and various measures are being taken to increase security on the Indian side as well.
On Friday (16th), The UK Carrier Strike Group (CSG) 2021, led by HMS Queen Elizabeth, has sailed into the Indian Ocean Region having recently transited the Suez Canal.
Following a series of successful engagements and operations in the Mediterranean, it is now sailing East across the Indian Ocean towards India.
It will then meet with ships from the Indian Navy to conduct routine maritime exercises. The strike group will sail through the Indian Ocean and on to the Philippine Sea.
HMS Queen Elizabeth is scheduled to make a number of port stops along way – including Oman, Singapore, South Korea and Japan.
Like the US, Britain is responding to the rise of China.