Pakistan Navy Spooked By Indian Submarine 200 km Away From Karachi
INS KALVARI trail run underway somewhere in the Indian Ocean region
Pakistan Navy claims it prevented an Indian submarine from entering Pakistani waters. Coordinates released show vessel 200 km away Karachi
New Delhi: The presence of an Indian submarine in international waters seems to have spooked the Pakistan Navy, which has claimed that it prevented the Indian vessel from entering Pakistani waters.
However, coordinates of the submarine released by Pakistan show that the Indian vessel was at least 200 km away from Karachi.
A top official in the government of India rubbished Pakistan's claims, saying it was now "resorting to subterfuge" in its "zeal to pacify its own population".
The source said that the submarine incident is false and the photo shown by Pakistan dates back to 18 November 2016. "Pakistan is doing all this to avoid uncomfortable questions by its own media on the actions taken by the country now that it is becoming slowly isolated by India," the official said.
The Indian Navy, meanwhile, said in a statement that it remains deployed as necessary to protect National Maritime Interests.
"Over the past several days, we have witnessed Pakistan indulging in false propaganda and spread of misinformation. The Indian Navy does not take cognisance of such propaganda. Our deployments remain undeterred," it said.
What Being In International Waters Means
Territorial sea, as defined under the 1982 United Nations Convention on the Law of the Sea, is a belt of coastal waters extending to 12 nautical miles, or about 22 km from the baseline of the coast.
A statement issued by the Pakistan Navy Monday said an Indian submarine "tried to enter Pakistani waters but alert Pakistani Naval personnel traced it out and stopped it entering the waters of the country".
The Indian submarine was not targeted in view of Pakistan's peace policy, said the statement.
The Pakistan Navy is fully alert and prepared to protect the country's waters and any Indian eventuality, it added.
Sources in the Indian security establishment, however, said Pakistan could not have taken any action if the submarine was in international waters.
Under international law, every vessel — military or commercial — is allowed to move freely in international waters.
The Pakistan Navy released a video Monday showing the snorkel of the Indian submarine. It also showed file footage of Scorpene-class submarine Kalvari to claim it was the same one that tried to enter Pakistani waters.
However, the fact that the snorkel was seen implied that the Indian Navy, in most likelihood, wanted the submarine to be seen by the Pakistani authorities.
The Indian military has been put on high alert ever since the Pulwama attack on a CRPF convoy last month and the subsequent Indian Air Force raids on a Jaish-e-Mohammed training camp in Balakot on 26 February.
The Navy, along with the Air Force and the Army, has put its assets on alert, including the surface warships and submarines.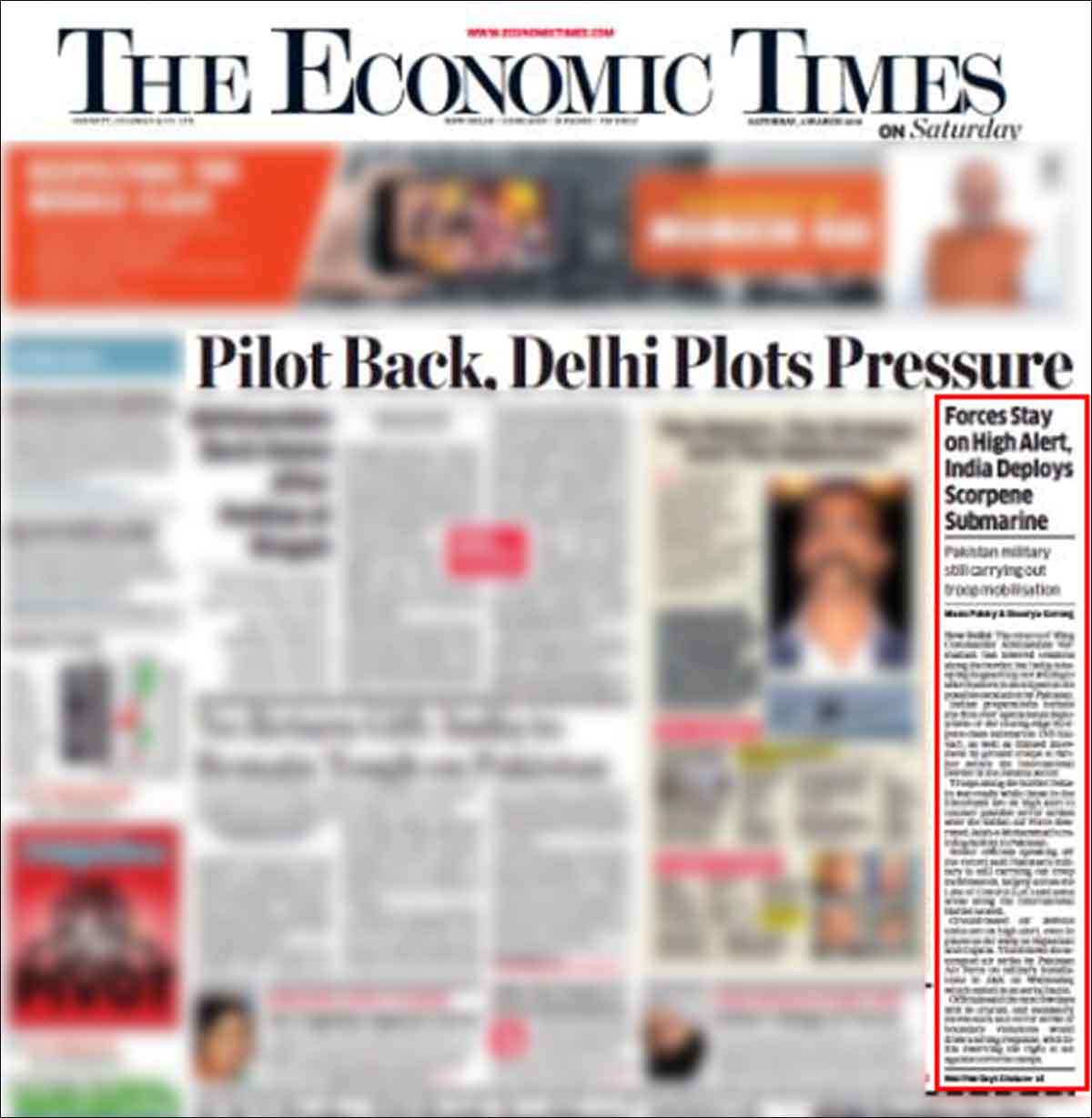 Screenshot of Economic Time's front page featuring the story
The Indian media had earlier reported that the Scorpene had sailed out last week on operational deployment.