HAL Dhruv Helicopter Fascinating Facts: India's Multi-Utility Chopper Coming To DefExpo 2018
Hindustan Aeronautics Ltd (HAL)'s Advanced Light Helicopter (ALH) Dhruv can work as a civil aircraft to carry passengers and also take combat role with missile launchers attached
Indian Ministry of Defence is hosting the 10th DefExpo in Chennai (April 11-14). Unlike the previous editions, which had more participation from foreign players, this year state-run and domestic companies are set to get their due recognition.
The 2018-series DefExpo tag-line — India: The Emerging Defence Manufacturing Hub — says it all. The government wants to showcase its Public Sector Units (PSUs) like Hindustan Aeronautics Limited (HAL), Defence Research and Development Organisation (DRDO), as well as private domestic firms like the Kalyani Group and aero-components-makers Tata Advanced Systems Limited to the world and become a new export hub for military equipment.
Among them, HAL will be vying for attention with its Advanced Light Helicopter (ALH) Dhruv, which can perform multiple functionalities — both civil and combat — depending on the requirements. With such capabilities, the Dhruv has the biggest potential to attract foreign buyers.DRDO, HAL and other PSUs to showcase 'Made-in-India' military equipment and aircraft at DefExpo 2018DefExpo India official page (screen-grab)
The Dhruv comes with composite hinge-less interchangeable main rotor blades, composite bearingless tail rotor blades, a composite airframe, a glass cockpit with an Automatic Flight Control System (AFCS), a Chaff & Flare dispenser (for heat-seeking missile distraction routines), an Integrated Self Protection Suite, a health and usage monitoring system, a Helmet Pointing System (HPS), a digital video recording system, an InfraRed (IR) suppressor, and an onboard Inert Gas Generation System. Depending on the utility, it can be fitted with guns and rockets as well.
Here are key facts about HAL's ALH Dhruv: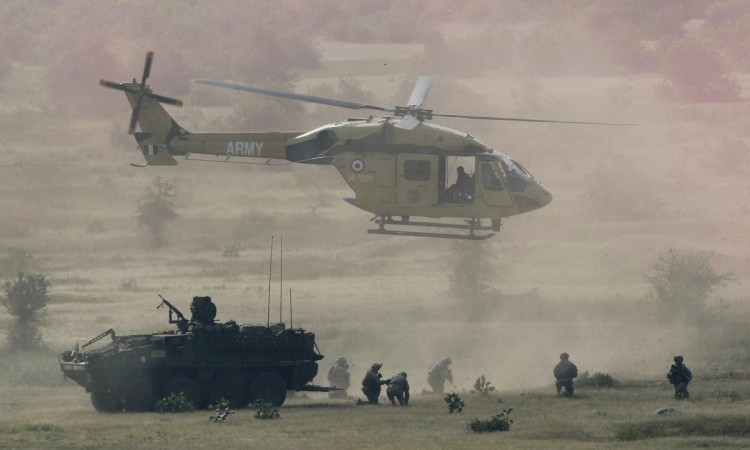 HAL is in the process of delivering 159 Dhruv helicopters from Indian Army & IAFReuters



HAL ALH Dhruv variants and their roles:
Variants
Main components
Role
ALH Mk. I

TM-333-2B2 engine with 801 kW power, having fuel consumption rate of 0.323 kg/kW hour
Conventional cockpit

Civil and non-military utility
ALH Mk. II

TM-333-2B2 engine with 801 kW power, having fuel consumption rate of 0.323 kg/kW hour
Integrated Architecture Display system (Glass cockpit)

Civil and non-military utility
ALH Mk.III

Shakti engine with 1032kW power having fuel consumption rate of 0.300 kg/kW hour
IADS with Digital Moving Map
Electronic Warfare Suite
Electro-Optical pod
Counter Measure Dispensing system
Infra-Red Suppressor
Health & Usage Monitoring system
Solid State Digital Video Recorder (SSDVR)
Engine Particle Separator

Utility roles of Defence Services suited for high altitude operations
ALH Mk. IV
ALH Mk.III with weapon systems
and mission sensors like


Turret Gun
Rocket
Air-to-Air Missile
Air-to-Ground Missile
Helmet Pointing System
Data Link
Infra-Red Jammer
Obstacle Avoidance System

Armed variant for Attack, Close Air Support, and High altitude operations.
Key technical parameters of Dhruv military variants:

| | | |
| --- | --- | --- |
| Model | ALH Mk III | ALH Mk IV |
| Length | 15.9 m | 15.9 m |
| Width | 13.2 m | 13.2 m |
| Height | 4.98 m | 4.98 m |
| Max Take Off Weight | 5500 kg | 5800 kg |
| Never Exceed Speed (VNE) | 292 Km/h | 245 Km/h |
| Range | 630 km | 590 km |
| Endurance | 3.65hr | 3.8 hr |
| PAX (maximum people/crew) | 12+2 | Not revealed |
Light Combat Aircraft (LCA) Tejas, Light Combat Helicopters (LCH), nuclear-capable missiles such as Dhanush, Akash, Indo-Russian BrahMos, the 155mm-class howitzer Advanced Towed Artillery Gun (ATAG) from DRDO and Kalyani Group and more are confirmed to be showcased at DefExpo 2018.
In the run-up to the next month's DefExpo 2018, we will be pushing a series of reports on individual military equipment and aircraft with their features.