India-Make Equipment Costlier, MoD Asks Why
India's indigenous Main Battle Tank ARJUN in action during DefExpo 2018
To examine how public sector firms arrive at cost
Startled at how indigenously produced military equipment was costing more than the same equipment if supplied by foreign makers, the Ministry of Defence has set up a committee to examine how the Indian public sector companies arrive at the cost of each equipment supplied to the armed forces.
Defence Minister Nirmala Sithraman said: "I have asked a panel to look into the costing of products manufactured by the Defence Public Sector Undertakings (DPSUs)."
The Indian Air Force offered to get the price of the Light Combat Aircraft (LCA), the Tejas examined by the committee to start with. The committee, headed by the Director of Costs in the Ministry, has been asked to report back by August-end.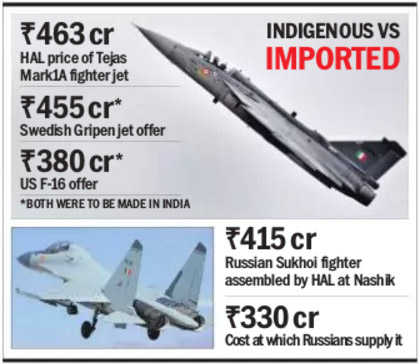 The Army, Navy and the IAF have been complaining about DPSUs pricing higher than what the original manufacturer supplied the same equipment for. Prime examples have been the Sukhoi Su-30MKI fighter jets, Tatra trucks, Dornier-228 surveillance planes and warships, among other items.
The latest trigger was the price quoted by Hindustan Aeronautics Limited (HAL) for the 83 Tejas Mark1A fighter jets. HAL, a company owned by the MoD, quoted a price of Rs 463 crore per jet in April, raising eyebrows. The Swedish Gripen jet was offered for Rs 455 crore and F-16 from the US for Rs 380 crore, and both to be made in India.
The price of the Russian Sukhoi fighter, which HAL assembles at Nashik, is Rs 415 crore while the Russians supply it at Rs 330 crore. Besides these Tejas and Sukhoi prices, the committee will look at each equipment of the DPSUs.
In 2012, the Tatra trucks supplied by Bharat Earth Movers Limited were found to be over-priced. These multi-axel trucks are used to transport missiles. More recently, the purchase of four warships from Russia has been hit as two of these are to be built at Goa Shipyard Ltd. The ones made in India are costing much more. The GSL will require upgrading its facilities and skills, which will add to the cost. Almost similar is the cost of Dornier 228, a plane that was originally made in Germany. It's now much in demand and is flown by the IAF, Navy and the Coast Guard.
The panel will also study the costing formula of artillery guns, trucks, ammunition, missiles, etc. Calling it a "good" move, Amit Cowshish, ex-Financial Adviser (Acquisition) in MoD, said: "The MoD has every right to know the right price of equipment it gets from DPSUs."