Former Pak Envoy To India Thinks Porn Star Johnny Sins Is A 'Kashmiri Blinded By Pellets'
Former envoy to India Abdul Basit with Kashmiri separatist Mirwaiz Umar Farooq
Pakistan's response to India abrogating Article 370 has been one-long stand-up comedy act which gets better and better every day.
Not only does a country that has its bigotry written into the constitution feel the need to lecture a democratic sovereign how to behave with minorities, its response on various international fora vacillates between threatening nuclear war (a bluff that has been called out) to hitting their own cash-strapped economy by adding 30 minutes of unproductivity every Friday.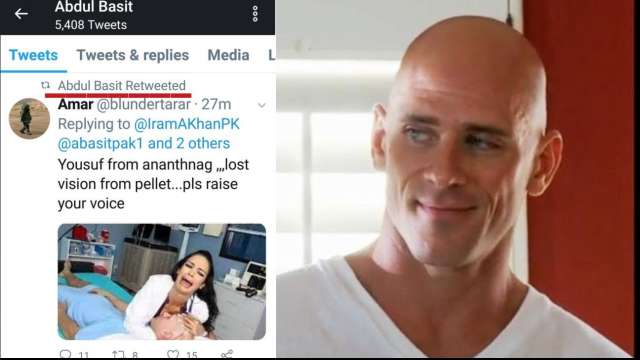 It has included Javed Miandad (Mumbai blast mastermind Dawood Ibrahim's in-law) literally threatening India with a sword at the LoC, while actors urged the Pak Army to launch a limited war!
Islamabad has also taken the fake news route to try and spread disinformation, but sometimes it just leads to hilarious consequences.
While a Pak senator asked UNO (the card game) to help Kashmiris, former Pak Envoy Abdul Basit went a step further and asked the world to 'pray for Johnny Sins'.
Abdul Basit, who earlier claimed that Shobha De wrote a column about Kashmir after being persuaded by him, a claim De vigorously rubbished, retweeted a handle claiming Sins was a Kashmiri 'blinded by pellets'.
The problem – the screenshot was from one of Sins' many videos. The former Pak envoy to India was roundly mocked for his faux paus. Even though he deleted the RT, we all know the internet never forgets.
Of course we shouldn't be surprised, given that Pakistan has precedent in mislabelling images, but that's the nature of the game when trying to drive false narratives - one tends to forget their own lies.
A couple of years ago, Pakistan's top diplomat - Maleeha Lodhi - shared a picture at the UNSC claiming it was 'atrocities committed by India in Kashmir'. The problem - the picture was from Palestine.
In an interview to a Pak blogger, Basit says it was a challenge for him to find an Indian journalist in 'mainland India' who write an article in a mainstream newspaper for 'self-determination of Kashmir'.
He goes on to say that Shobha De's article was met with such fury that she didn't step out in public for two months. He also said that India had more freedom of speech, pointing out the debates saying he was very 'impressed' by Shashi Tharoor and Manish Tewari's speeches.
Shobha De however vehemently rejected the allegations claiming she hadn't met Basit only once in 2019 at the Jaipur Literature fest where he intruded upon a publishing party.
Columnist Shobhaa De on rubbished the claims made by former Pakistan envoy to India Abdul Basit that he had influenced her to write the 2016 article where she "advocated plebiscite" in Kashmir in the aftermath of Burhan Wani's death.
Speaking to ANI, De said that the only time she ever met Basit was during the Jaipur Literature Festival in January 2019, when the former envoy attempted to make a conversation at a "publishing party" but was "almost as good as asked to leave".
Former Pakistani high commissioner to India Abdul Basit, mistakes Johnny Sins for a Kashmiri man who lost vision from pellet. Unreal times these, really.

pic.twitter.com/9h1X8V8TKF
According to Former Pakistan's high commissioner to India Abdul Basit, Johnny Sins, a Kashmiri, has lost his vision from pellet gun.

So now johnny sins is new victim of pellet in

#Kashmir

🤣🤣






Former Pakistan High Commissioner to India "Abdul Basit" tweets image of adult movie star Johnny Sins claiming he is Yousuf from Anantnag

#Kashmir

blinded by pellet.

@JohnnySins

has been a plumber, a doctor, a teacher, an astronaut but Pak reduced him to a stone-pelter.

pic.twitter.com/k1rrcnDyOB
Source>>