Swedish Firms Have What India Needs For Its Security: Official
MEAN MACHINE: SAAB Gripen-E Fighter jet is in the reckoning for the MMRCA deal
Sweden remains one of the most innovative nations in the world. According to the 2018 Global Innovation Index (GII), it is ranked the third most innovative country, behind only Switzerland and the Netherlands. Since innovation is a priority for PM Narendra Modi, during his visit to Stockholm last April, both sides signed the Innovation Partnership Agreement.
Ambassador Teppo Tauriainen, Director General-Trade of Sweden was in New Delhi to take stock of the progress. He spoke to DNA on various facets of the relationship and cooperation. Excerpts:
Q: Sweden is a market leader in innovation. How can Sweden help India to realise its vision of innovation and knowledge economy and share its experiences?
A: During PM Modi's visit to Stockholm, we signed a partnership agreement. We will share our experiences. It is not only Sweden, which will present its ideas. We will learn from India as well. For example, India is planning to build 100 new smart cities. I think what we can offer ideas and technology. How you do it in practice, that is the challenge. For example, there are areas such as waste treatment, water treatment and how to organise public transport. There are many technologies that you can develop and combine sustainability and economic viability.
Q: During PM Modi's visit, India and Sweden also signed an agreement on cooperation in defence and security issues. What is on the plate?
A: We have a big defence industry and it has been working with India over many years. We have always been a non-aligned country. We need to have a defence industry. But we are a small country to keep defence companies going. We need to sell their products in the global market. And Swedish companies have what India needs for its security.
Ambassador Teppo Tauriainen, Director General-Trade of Sweden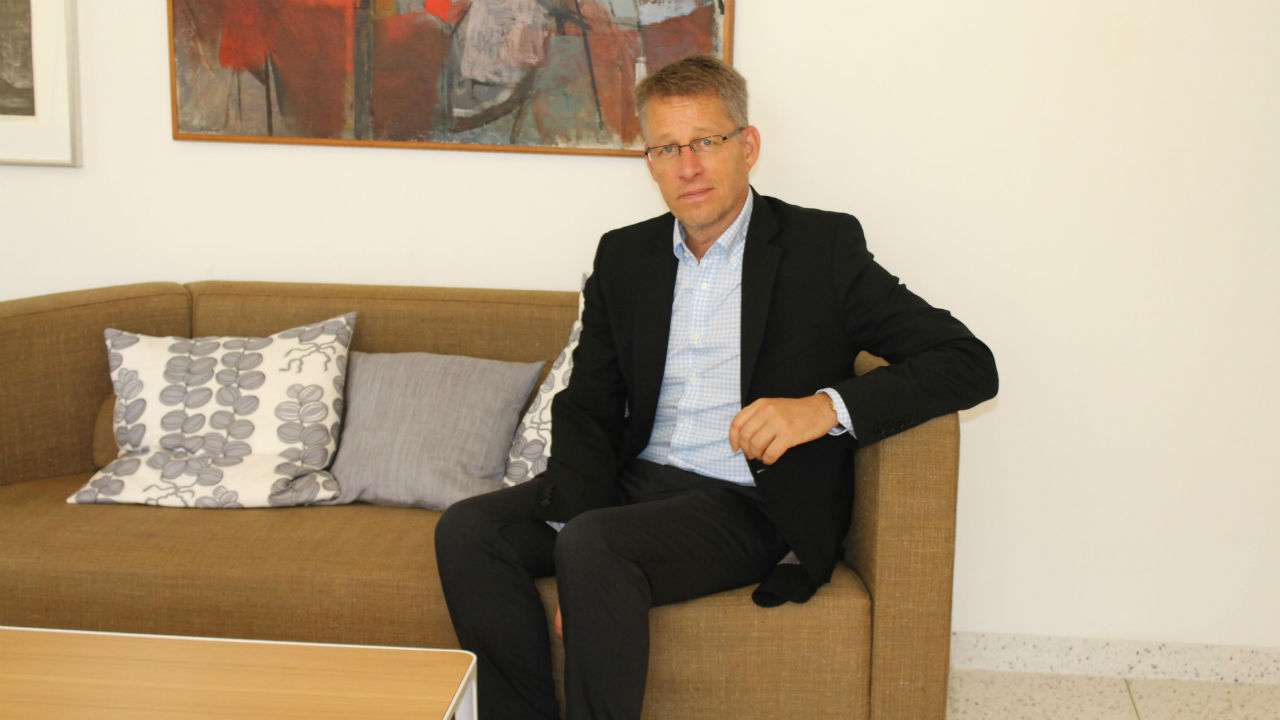 Q: Is there anything that Sweden can offer and that has been actually tested and works in the country?
A: Yes, like, E-mobility -- charging stations to develop them in the Indian context. Most important is waste management. Sweden is a leader in waste treatment. We collect waste and convert it into providing heating and cooling system in homes.
Q: Could you explain?
A: For heating our houses, instead of using electricity, we have centres in cities and districts where waste is burnt and converted into energy to heat up water. The heated water goes to buildings via tubes. We use waste to create heat. You can use it to create cooling as well. No Swedish city has either waste dump sites or landfills. In a situation like India's, it can be also used to produce biofuel and to cool homes.
Q: Nordic countries, including Sweden, are highly sensitive about climate change and sustainability. How do you marry sustainability and economic activity, which are seen as opposite sides of a coin?
A: I don't see any contradiction. There is a possibility to combine the two. Our way is to look at sustainability as an opportunity to make money out of. This is a global trend now. Everybody is looking for a sustainable solution. Some companies were taking it as an additional cost, but it is not the case now. They now see it as an opportunity and they have incorporated it into their business model. For example, Swedish mining companies focus on sustainability. They have invested in appliances and equipment. They know that the outside world is watching.
Q: Sweden was once a market leader in constructing hydro-power projects. They constructed Uri power project in Kashmir in a difficult terrain and under difficult conditions in the 90s. Are there any more such projects in India?
A: Some of the Swedish companies which were engaged internationally in constructing power projects, are no more engaged now. But yes Sweden is now involved in transporting power from northeast to South of India. We have expertise in transmission lines, where there is less loss of power. There is change from big construction companies to focusing on transmission of power. That is also a way to see sustainable development. They have cables, systems to ensure you reduce energy loss in network of cities.
Q: So far, as it looks after the purchase of Bofors guns in 1987 that got mired in controversy, there has been no major defence purchase from Sweden.
A: That was a particular case. There is cooperation going on. Swedish companies are here. They may not be making headlines. Indian defence forces are buying and using Swedish equipment, maybe not in big numbers. There might be possibilities of some bigger deals, we have some equipment that may interest to India. For example fighter jets. It is not a secret that Saab, our fighter jet company is present here, presenting what they can offer. It is for Indian defence forces to choose. We present solutions. It is for Indian defence forces to see if they work for them. It has worked well for us. I have seen others in different countries talk about these fighter jets the Saab JAS 39 Gripen. Pilots like this aircraft. That is why we have chosen India to engage.
Q: But you cannot compare security needs of Sweden and India. Your neighbourhood is calm and stable unlike ours.
A: Well, that is true. But we keep ourselves prepared. World today is looking different, what it was 10 years ago. We are actually in process of strengthening our defence. I would agree with you, we don't have an immediate threat. But at the same time, there is political consensus in Sweden to be prepared. Hope we will never be able to use them. We had also signed an agreement on cyber security, which is a relatively new issue, but very important We are still early to devise how to combat.
Q: Your system in Sweden is very open and India, in contrast, has a very insular system. These are two different mindsets. How you marry these two different contrasting mindsets to cooperate in trade and other issues?
A: That is a good question. I don't think that hampers our dialogue. We have a different perspective; we can still have dialogue. India is a continent, we are a small country. So in size, we are different. We believe in openness, and when we talk to Indi. Who knows we can inspire India if it thinks it works for them.
Q: Sweden is also known in the world as being a "moral superpower". You have taken positions on issues of human rights. Are there any issues related to human rights in India that your country sees with concern?
A: To be honest, I don't know India well enough to comment. But I can say there is absolute consensus in Swedish society, we need to stand up for key human values. Even in countries where we are in complete disagreement, we can still have dialogue that we have shown. Thanks to credibility we have, we are able to talk to countries that we believe are not acting as we believe should have acted. There are different ways to speak up. Sometimes we speak openly, sometimes bilaterally in meetings. The important thing is for Sweden or Swedish politician, it would be difficult not to defend some of these values. That is part of our DNA. It would be difficult for us not to talk on these things.