Ordnance Factories Could Become Multiple Firms; Staff Protest From Aug 20
Ordnance factory staff during a demonstration against the proposed 'corporatisation'
BANGALORE: The Ministry of Defence (MoD), which has prepared its proposal to corporatise ordnance factories is making an argument that the proposed move, which comes in the backdrop of consistent issues pertaining to the 41 factories, will help enhance functional autonomy, efficiency and unleash new growth potential.
The MoD has proposed to convert the Ordnance Factory Board (OFB) into multiple companies. The proposal, which will be placed before the Cabinet and the Cabinet Committee on Security (CCS), also wishes to constitute a six-member Empowered Group of Ministers (EGoM) headed by defence minister Rajnath Singh, even as all the employee unions associated with the ordnance factories have called for a massive protest from August 20 against the move.
The EGoM, as per the proposal, will also include the home, finance, law and justice, labour and employment ministers, and, the minister of state for personnel, public grievances and pensions.
The employee unions, on Tuesday met with Saurabh Kumar, chairman, Ordnance Factory Board (OFB), and have already sent strike notices to the government. The TOI was the first to report that the ministry was actively considering corporatising ordnance factories, on July 19. Post that, the MoD has prepared its proposal on July 23, according to which, the move comes in the backdrop of growing quality and cost concerns too.
"Concerns have been raised by Armed Forces over the last few decades, regarding the OFB, These concerns inter alia, relate to high costs of its products, inconsistent quality, and delays in supply," the MoD maintains.
However, the unions — All India Defence Employees Federation (AIDEF), the Indian National Defence Workers Federation (INDWF) and the Bharatiya Pratiraksha Mazdoor Sangh (BPMS) —argue that arbitrary decisions without proper consultation with stakeholders are cause for concern.
AIDEF general secretary C Srikumar, told TOI: "All of us are onboard with the strike, we have already held several demonstrations. Besides, we've also written to the Indian Ordnance Factories Service association to back the agitation."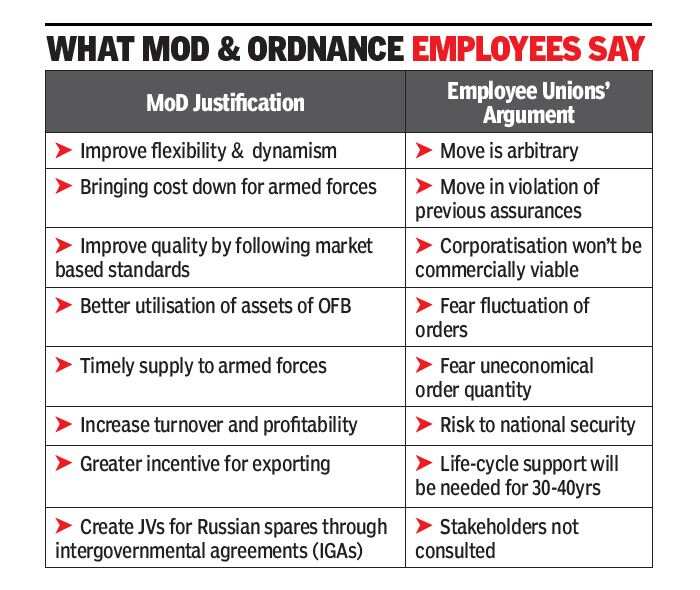 The employees claim that MoD's move is in violation of previous assurances given by the ministry and the Centre's submission in the Parliament in the past that there would be no such decision. "All along they kept telling us there is no such move and in a very non-transparent way, they have suddenly proposed this," Srikumar said.
However, as per the proposal, the EGoM will "oversee and guide the entire process including transition support and redeployment plan of employees while safeguarding their wages and retirement benefits."
The proposal also claims that the transformation of OFB into proposed companies would target unleashing a new chapter of growth. Among its goals are: To increase turnover from Rs 14,000 crore at present to Rs 30,000 crore by 2024-25; To export 25% of their turnover in the same period and to enhance self-reliance on technology from about 20% of the value of OFB production to 75%.