What Is The 'Missing Man' Formation IAF Chief Flew As Tribute To Fallen Kargil MiG-21 Hero
Air Chief Marshal B. S. Dhanoa (C) and Western Air Command chief Air Marshal R. Nambiar (third from right) with fellow officers
IAF chief B.S. Dhanoa and Western Air Command chief R. Nambiar were part of the formation in honour of Squadron Leader Ahuja who died at the start of the Kargil war
New Delhi: Indian Air Force (IAF) chief, Air Chief Marshal B.S. Dhanoa, and the Western Air Command chief, Air Marshal R Nambiar, Monday flew together in the 'Missing Man' formation as a tribute to Squadron Leader Ajay Ahuja who was killed during the Kargil conflict exactly 20 years ago.
In doing so, both officers made history as this is the first time that an IAF chief and the Air Officer commanding-in-chief of a command have flown together in the same formation.
Air Chief Marshal Dhanoa led a four aircraft, MiG-21 Missing Man formation flypast at the Air Force Station Bhisiana, Bathinda, to honour the valour and supreme sacrifice of men killed during Operation Safed Sagar in Kargil.
The Missing Man formation is an aerial salute that IAF personnel accord to fallen comrades. It is an arrow formation, with a gap between two aircraft in the formation depicting the missing man.
Squadron Leader Ajay Ahuja
A memorial for Squadron leader Ajay Ahuja, who lost his life in Kargil war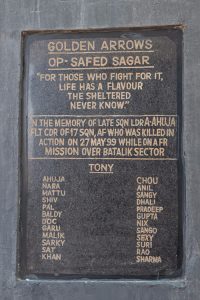 It was on this day in 1999 that Squadron Leader Ajay Ahuja VrC (posthumous) was killed during the Kargil conflict. He was at that time the Flight Commander of the 17 Squadron.
Squadron Leader Ahuja was flying a MiG 21, well within the Indian territory, when his plane was shot at by the Pakistani Army. He ejected but landed in Pakistani territory.
Pakistan later handed over his body that was severely mutilated.
A postmortem of his body revealed that he was tortured. He had suffered multiple puncture wounds over his left and right thighs, rupture of the right lung, injury to his neck, small intestine and left liver and there was a gunshot wound near his ear.
The squadron leader had sustained a fracture on his left knee when he parachuted down but the gunshot wounds showed that he had landed alive and was shot.
The IAF chief will also visit the Air Force Station at Sarsawa, Uttar Pradesh, on 28 May to fly in a Mi-17V5 Missing Man formation to commemorate more Kargil martyrs.
It was on 28 May 1999 that India lost a Mi-17 after successfully attacking the Pakistani positions in the Drass sector. Squadron Leader R. Pundhir, Flight Lieutenant S Muhilan, Sergeant RK. Sahu and Sergeant PVNR Prasad died in action in that Mi-17.
Earlier this year, the Missing Man formation was flown at the Aero India show in Bangalore in February as a tribute to the Surya Kiran pilot who was killed in a freak mid-air collision during training before the show.