PM Shows Ignorance of Radar Tech, Gives Out Crucial Details of Balakot Raid In Interview
Modi, facing flak for claiming that clouds hamper radar efficiency, also revealed to News Nation that the Navy performed manoeuvres before the Balakot air raid
New Delhi: Not only has Prime Minister Narendra Modi set Twitter and other social media platform on fire with his "cloud theory" remarks on the Balakot air strikes, he has also given out critical details of the moments and tactics prior to the daring air raid of 27 February, even contradicting what top government officers had claimed earlier.
In an interview to news channel News Nation, aired Saturday, Modi said that he had approved the air strike despite bad weather because he felt the clouds would hide Indian planes from Pakistani radar. The PM's remarks gained prominence after the BJP's official Twitter first put them out before deleting the tweet.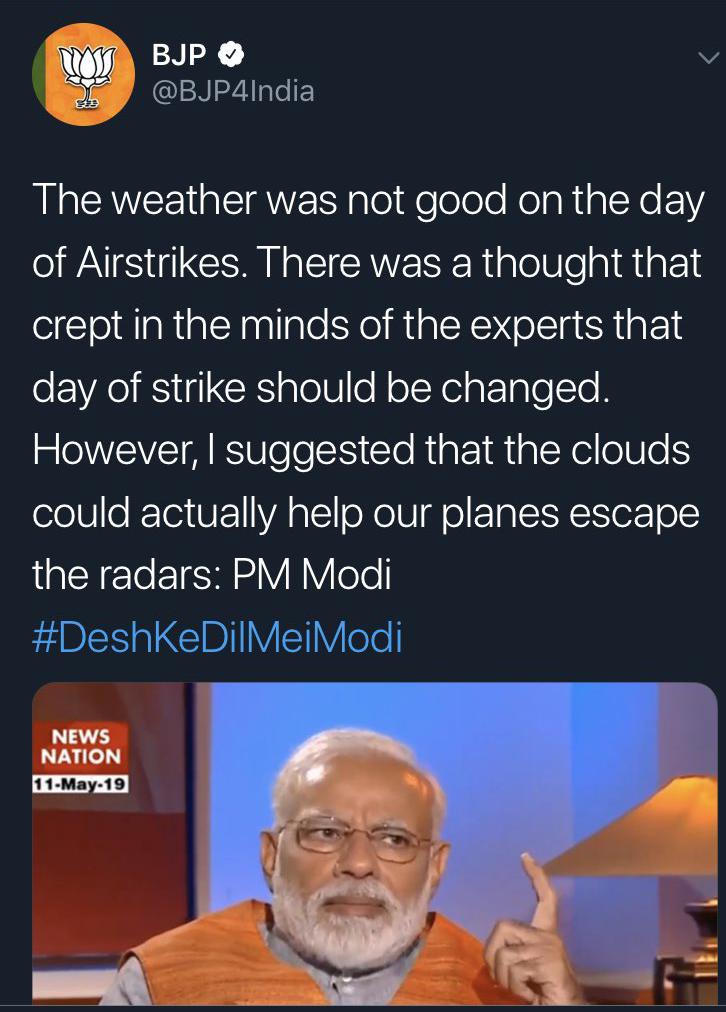 The tweet that BJP's official Twitter handle deleted | Screenshot from Twitter
While Twitter has had a field day over the statements, as radar can pick up signals even in adverse weather, the interview also had the Prime Minister revealing that there had been a discussion on the air strikes and that experts may have wanted to delay it.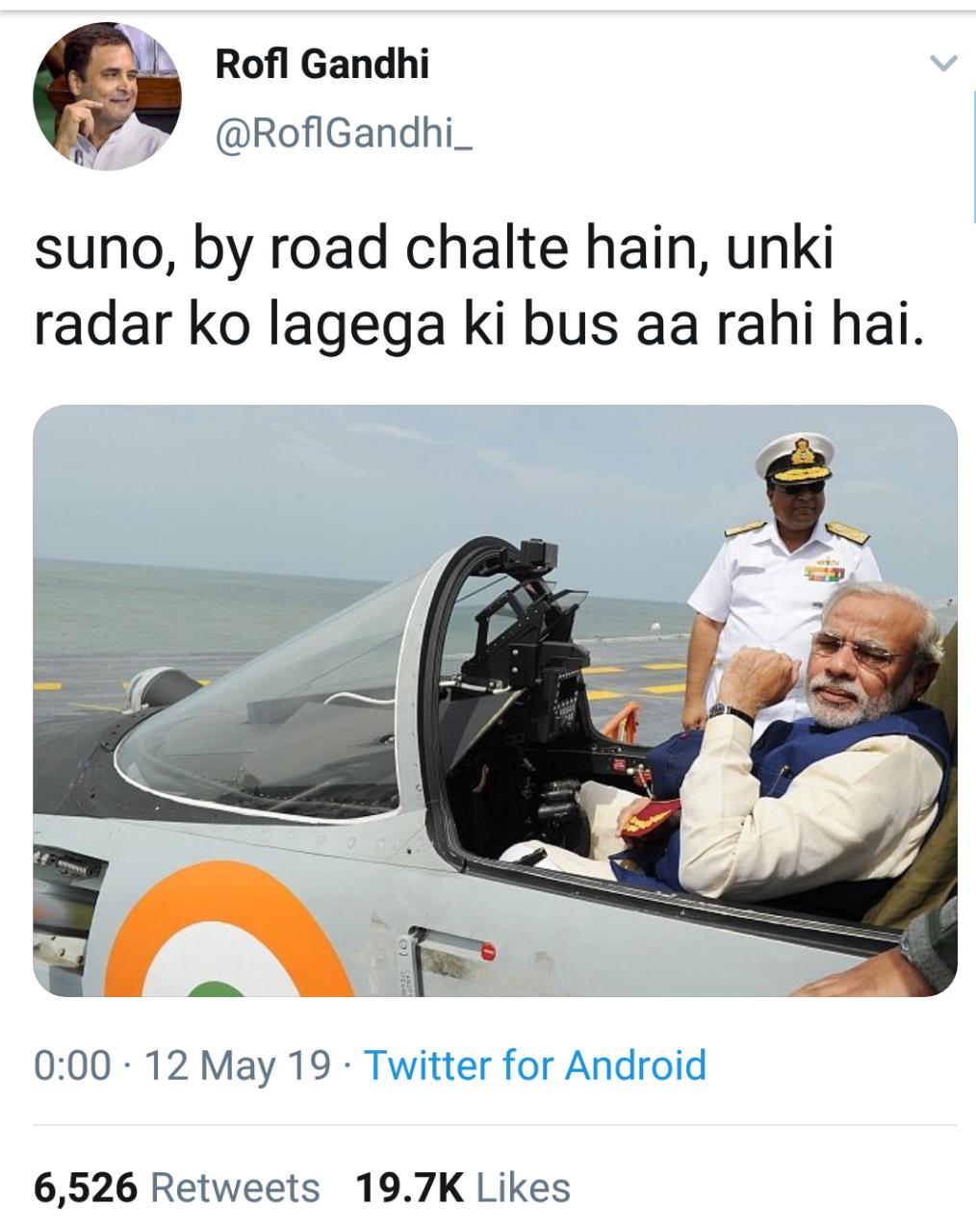 A meme tweeted by an unverified account on PM Modi's statements | Twitter
Modi also said that an F-16 fighter aircraft of the Pakistan Air Force was indeed shot down, killing two pilots in it.
PM Admits Experts Wanted Date Changed
While the focus has been on the 'cloud theory', the prime minister did reveal that prior to the air strike, the government held a review of the operation at 9 pm on 25 February.
The problem of the cloud cover, Modi added, emerged at the next review meeting at 12 am. "We had a problem in front of us, the weather had suddenly gone bad," the PM said. "There was lot of rain if you remember… I am saying this for the first time. I am not sure what our officers will feel."
The PM admitted that there had been doubts of whether the Indian Air Force (IAF) pilots would be able to fly in such weather.
"By and large, the opinion of experts was 'sahab, date badal de the kya(Shall we change the date, sir)'," the PM said. "Two things came to my mind — one was secrecy. It was secret till then but if anything leaks out, we will not be able to do it… Secondly, I am not a person who understands all these tech and science. But I said there is benefit also because of all this cloud and rain. We could escape the radar."
"I said my raw wisdom is that this cloud can benefit us as well. We were all in a fix. Then ultimately I said, cloud hai, jayi," he added.
The PM's comments, however, showed that "experts" wanted to delay the operation but it still went ahead. It is not clear whether any of the experts, including top IAF officials, explained that radars can pick up signals even if there is heavy cloud cover.
Top IAF officials that ThePrint had spoken to in the immediate aftermath of the Balakot strike had taken pride in the fact that secrecy was maintained even though multiple air bases were involved and in all together about 5,000 airmen were aware that something major was on.
So the fear that any delay would actually lead to a leak is something that the IAF had feared too.
PM Reveals Naval Exercise
The main new detail to emerge from the Prime Minister's interview, however, is the revelation that the Indian Navy had played a part in the run-up to the air strike. Modi has gone on record to state that Indian naval ships carried out multiple movements before the strike to make Pakistan believe that the plan was to attack Karachi. It is vital information that top government officials have been taking pains to deny.
Pakistan had then taken a number of defensive steps including putting its entire fleet out on operational deployment against India.
It was around this time that a top Indian government official had met with select reporters and accused Pakistan of indulging in war mongering and trying to tell that the world that a war was imminent. The top official had also denied that any ships were deployed against Pakistan. He had in fact said that the movement was not facing Pakistan side.
Navy sources had also denied that there was any deployment against Pakistan. Only, following the air raid by Pakistan on 27 February, did the Navy come on record but even then, it said that it had only put its assets on high alert.
In his interview Saturday, however, Modi said that Indian naval ships were indeed deployed before the Balakot strikes. "We did a lot of movement in the sea… all our naval warships. Pakistan… there was blackout in Karachi for many days," the Prime Minister said. "They had thought attack would be in Karachi… they were confused because all these movements were taking place."
The Prime Minister also said that the Indian side had intentionally created an illusion that Bhawalpur, where the Jaish-e-Mohammad (JeM) has its headquarters, was the target.
"For 3-4 days, there was another place which Pakistan kept talking about (JeM camp in Bhawalpur). They even took people there to show this is so peaceful, students study here," Modi said. "We used to keep saying all gadbad happens through here. One set of our aircraft went there. Pakistan had thought, they are coming for this place. They never realised we are going somewhere else."
Another new detail that emerged was the time of the attack. While IAF sources had briefed the media that the operation began at 3.30 am, Modi said it actually commenced at 2.55 am.
"We started our movement at 1.30 am. Our time was 2.55 am. That was the best time," Modi said. "We had to keep in mind the satellite moment so that we don't get caught in that. At 3.20 am, I received the report that all went well."