Space Is Next Frontier: As China Pushes Ahead, India Needs To Bridge The Gap
Chinese CZ-5B Heavy-Lift Launch Vehicle
Space platforms support ballistic missiles and hypersonic weapons: Command, Control, Communications, Computers, Intelligence, Surveillance, and Reconnaissance (C4ISR); and network-centric battlefield. Space superiority is key for modern information-centric wars
by Air Marshal Anil Chopra
China Space Station Tiangong is now complete and China is in a position to dominate the future of space and replace the US as the number one space nation in the world. The US-Russia International Space Station is scheduled to operate until 2024, with an extension to 2030. Russia, under sanctions from the West has announced its withdrawal from the space station. China and Russia have agreed to jointly build a lunar base. They plan cooperation between China's Beidou and Russia's Glonass positioning satellites.
China's space program is closely tied to the People's Liberation Army (PLA). A state-owned military company is building the space station and rockets. In 2022, China conducted 64 rocket lift-offs, setting a new national record. As many as 70 are planned in 2023, including a few from the coastal spaceports facilitating sea launches. The target is of sending 200 space crafts. In addition, three private Chinese rocket companies made their launches with their own rockets in 2022. In 2022 the United States had 87 launches, including many by private players. China claims to have put 217.39 tons of payload into orbit in 2022, still much less than the US.
China now has all the capabilities required for all space and outer space operations. Tacit militarization of space has already taken place. To be a superpower today, one has to be a major space faring nation, and be able exploit the high vantage point, and have the ability to defend its own assets. India has a successful space program, but much more needs to be done. Let us see where China stands.
Space Organisational Structure
The State Council's State Administration for Science, Technology, and Industry for National Defense (SASTIND) coordinates and manages China's space activities, including allocating space research and development funds. It works closely with the PLA. The China National Space Administration is an agency within the SASTIND. China has a large number of universities doing research on Aerospace and Astronautics. China operates four satellite launch centres, one each at Jiuquan, Xichang, Taiyuan, and Wenchang. The main monitoring and control centres are at Beijing and Xi'an. It has an integrated space monitoring and control network of stations. There are overseas tracking stations in Pakistan, Kenya, Namibia, and Argentina.
Chinese Launch System Rockets Program
The Long March (Chang Zeng, CZ) rockets are a family of expendable launch system rockets operated by the China Aerospace Science and Technology Corporation (CASC). A CZ-2F rocket launched the first Chinese astronaut into space in October 2003. The CZ-2F is also used for rendezvous and docking with the Space station, and can carry 8.5 ton payload. The CZ-3 rockets are a series of three-stage geosynchronous satellite launchers that can carry 5 ton payload to low earth orbit (LEO) and 1.5 ton to geostationary transfer orbit (GTO).
The CZ-5 heavy-lift launch system uses liquid hydrogen and liquid oxygen as propellants, and can carry 25 tons to LEO, and 5.1 tons to geosynchronous equatorial orbit (GEO).The CZ-6 and CZ-7 are small and medium lift rockets for the lunar program, and can carry 5 tons to trans-lunar injection (TLI).
CZ-9 will be a super heavy launch vehicle under development, and will carry 100-160 tons to LEO, and 35-53 tons to TLI.
CZ-11 can be launched from a canister attached to a mobile transporter/erector similar to an ICBM. The first sea launch occurred in June 2019, making China the third country with this capability. Fifteen CZ-11 launches have been made as of December 2022, four of them from sea. It is meant for a quick-reaction orbital launch with 700 kg load to LEO. Clearly, China has phenomenal space launch capability. The Long March series has performed more than 450 launches by the end 2022.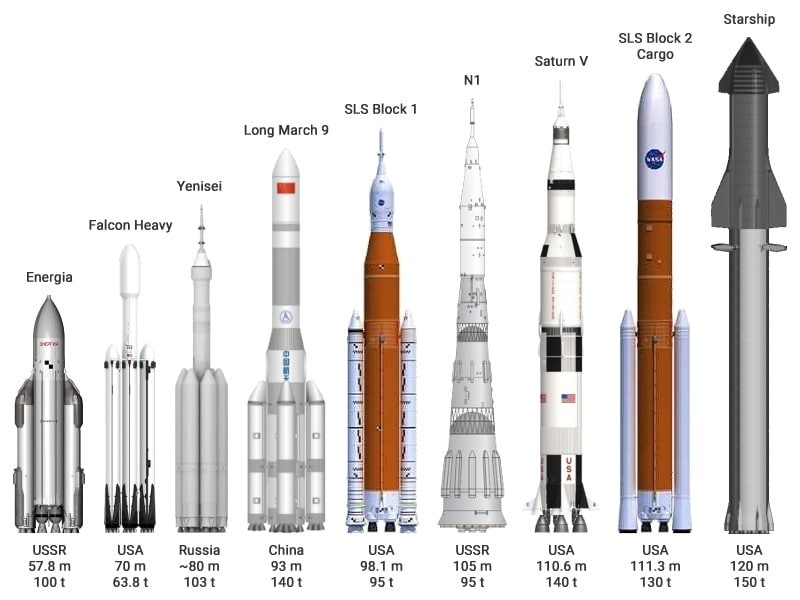 Comparison of Large Rockets
In January 2007, China became the first Asian power to launch an anti-satellite (ASAT) missile, and destroy an ageing Chinese weather satellite. ASAT technologies to destroy or disable space-based assets are a critical part of the Chinese space program. These include land-based missiles, experimental lasers, and signal jammers.
Chinese Crewed Space Program
China successfully launched a recoverable satellite into orbit in 1975. In 1992, authorization and initial funding was given for Project 921 (Shenzhou program) for crewed space mission. Shenzhou 1 spacecraft was launched in 1999. Shenzhou 2 carried test animals. Shenzhou 3 and 4 (2002) carried test dummies. Shenzhou 5 was the first crewed mission carrying 'taikonaut' Yang Liwei in 2003, becoming the third nation to launch a human into orbit. The first "multi-person and multi-day" manned space flight, Shenzhou 6, was conducted in 2005 (4 days 76 earth orbits). In 2008, Shenzhou 7 carried three taikonauts and completed China's first extravehicular space suit mission.
China initially used Russian spacecraft docking technologies. In September 2011, Tiangong 1 was launched. Tiangong (TG) means 'Heavenly Palace' in Chinese. It included first space rendezvous and docking. In 2013 three astronauts spent 12 days in TG 1. TG 1 de-orbited in 2018. Before that, the second space lab TG 2 was launched in 2016. The TG 2 carried out many space experiments and also had the world's first-ever in-space cold atomic fountain clock. TG-2 was de-orbited in 2019.
The permanent Tiangong Space Station, with permanent occupation and a robotic version of the Shenzhou spacecraft for resupply and return of cargo back to Earth began in 2020. In May 2020, China launched the first CZ-5B, with the ability to put over 22 tons into LEO. In April 2021, the core module was launched and positioned to start in-orbit construction of China's space station. In November 2021, China had its first female taikonaut. In June 2022, three taikonauts were launched to spend six months on the space station. In September 2022, they conducted the first spacewalk for over 6 hours. In November 2022, a new module gave the 'T-shape' to the space station. Shenzhou 15 launched in November 2022 also meant the first crew handover on the China space station. The station is complete and will orbit until 2038. The program has had 27 launch missions till date. 25 taikonauts have made space missions.
Chinese Lunar Exploration Program
China sent two lunar orbiters Chang'e 1 (2007) and Chang'e 2 (2010). Chang'e 3 landed on the Moon in 2013. It carried a 140 kg lunar rover 'Yutu', which explored an area of 3 square kilometres for three months. Chang'e 4 (2019) landed on the South Pole (Aitken Basin), on the far side of the Moon and deployed Yutu-2 rover, the only ones to land on the dark side.
Chang'e 5 returned to earth with 2 kilograms of lunar soil in December 2020. The next phase to set up the lunar robotic research station has just begun. 2025 onwards China plans to investigate the topography, composition and subsurface structure of the South Pole–Aitken basin, and explore the South Pole for resources, and carry out 3D-printing experiments using in situ resources.
Preliminary studies for a crewed lunar landing mission in the 2030s have begun, with plans of building an outpost. China has long term ambitions to exploit Earth-Moon space for industrial development. In 2021, China and Russia announced that they will be building a moon base together as a competitor to the American Artemis Program.
China's Deep Space Exploration Plan
China launched the Dark Matter Particle Explorer (DAMPE) the most capable dark matter explorer to date in 2015, and world's first Quantum Experiments at Space Scale 'QUESS' satellite in 2016.
China has a plan of deep space exploration under 'Tianwen' program. The roadmap includes exploring planets of the Solar System, starting from Mars, and some asteroids. Chinese lunar probe Chang'e 2 had made a flyby of the asteroid 4179 Toutatis. Tianwen-1 Mars exploration mission, began in July 2020, and inserted into Mars orbit in February 2021, followed by a successful soft landing of the lander and Zhurong rover in May 2021, becoming second after the US. Asteroid Exploration Mission Tianwen-2 is proposed in 2025. Mars sample return (2025), Venus flyby, Jupiter system exploration launch (2029) and Uranus flyby sometime after 2040. Mars crewed mission is planned after 2033.
China plans a solar power plant in space by 2028. They claim to have successfully tested the technology to transmit generated power to Earth. A replica of a 75-metre high steel structure with solar arrays has been set up at Xidian University. A similar type of project was announced by NASA in 2019. If successful, huge platforms could deliver 1000s of megawatts of affordable power through wireless transmission. The solar station will be the biggest man-made object in space.
BeiDou Navigation Satellite System
China's Beidou satellite navigation system began with three satellites in 2000 with limited coverage. The BeiDou Navigation Satellite System (BDS) or BeiDou-2, is operational since 2012 with 10 satellites covering Asia-Pacific region. BeiDou-3 with global coverage constellation was operational in December 2018, initially with around 15 satellites. It is now fully operational with 35 satellites, and provides an alternative global navigation satellite systems. Chinese claims that it is more accurate with millimeter-level accuracy through post-processing. The system boasts the largest fleet of satellites, compared to US GPS (31), Russian GlOSNASS (26), European Galileo (26), and Indian NaviC (planned 11) satellites. China is well on its way to becoming the world leader in space technology through its new "Space Silk Road". China claims to have shipped millions of BeiDou receivers to nearly 120 countries. These systems include microchips and modules, which could give China information access.
Space Program Military Linkages
As part of the military reforms announced in 2015, China established the Strategic Support Force (SSF) to integrate Space, cyber, and Electronic Warfare (EW) capabilities. In addition to position, navigation, and targeting, PLA will use BDS for reconnaissance, short messaging platforms, both of which are not in GPS. BDS will help PLA identify, track, and strike U.S. ships.
Space platforms support ballistic missiles and hypersonic weapons: command, control, communications, computers, intelligence, surveillance, and reconnaissance (C4ISR); and network-centric battlefield. Space superiority is key for modern information-centric wars.
China is investing heavily on spy satellites, dozens of which are snooping around the world at any given time. The Yaogan series and JianBing satellite constellations can accurately pinpoint signal emissions and provide surveillance. They are cutting down revisit time, and eventually give continuous coverage. China is also having a series of data relay satellites.
China continues to improve its counter-space weapons capabilities. The PLA routinely incorporates jamming and anti-jamming techniques against multiple communication, radar systems, and GPS satellite systems in exercises. PLA will target space-based C4ISR assets. China continues to develop jammers to target SAR aboard military reconnaissance platforms, including LEO satellites, and to target SATCOM over a range of frequency bands.
China is pursuing space and ground based laser weapons to disrupt, degrade, or damage satellites and their sensors. China is developing on-orbit satellite inspection and repair capabilities, some of which could be used to remove an adversary satellite. PLA already has operational ASAT units. They are working on ASAT to destroy GEO satellites.
China has a deep space tracking network by using the world's largest single dish radio antenna of 500 m in Guizhou, and a 3000 km VLB radio antenna. There is a plan for a Deep-impact style mission to test the process of redirecting the direction of an asteroid or comet.
Where Does India Stand, And Military Implications
India has had a robust space program and is among the top four space faring nations. But clearly China is pulling way ahead. India's most powerful space launcher GSLV III can put 4 tons in GTO and 8 tons in LEO.
ISRO's Small Satellite Launch Vehicle (SSLV) with payload capacity to deliver 500 kg to 500 km LEO has been tested. India has demonstrated ASAT capability against LEO based satellite.
However, the number of payload carrying spacecraft launches from 2014 to 2022 has just been 42. The calendar year 2022 witnessed five launch missions, up from just two missions each in 2020 and 2021. Clearly the number of launches is too few.
The Indian military has dedicated ISR, ELINT and communication satellites. These also support network-centric warfare capabilities. To reduce revisit time and have continuous coverage of specific areas, and redundancy, India needs many more satellites with high resolution sensors and cameras.
There is a need to enhance space-based, Jam-proof ISR, ELINT, and EW capability. As the military requirements of space capability increased, India set up the Defence Space Agency, now headquartered in New Delhi. It could one day upgrade to a Space Command.
ISRO has a project "Network for Space Object Tracking and Analysis" (NETRA). There is a Directorate of Space Situational Awareness and Management. India-US Space Situational Awareness MoU has been signed. India needs to Set-up Space Information Fusion Centre in the NCR, and monitor space as we do in the Indian Ocean Region.
Indian Regional Navigation Satellite System "NavIC" currently has 8 of the 11 Satellites in place. It reportedly covers the whole of China, Pakistan and most of the Indian Ocean. Global Indian Navigation System (GINS) with 24 satellites is still a work in progress. ISRO has proposed to expand the constellation for global coverage by initially placing twelve satellites in Medium Earth Orbit (MEO). Decision is awaited.
India's Human Spaceflight, the "Gaganyaan" program, will involve first an un-crewed flight planned at the end 2023. The crewed flight is likely in 2024. There is also a plan for a 20 ton Indian Space station by end of this decade. Meanwhile, the private sector has entered the space sector for spacecraft, and launcher manufacture. They had already been suppliers to ISRO for sub-systems for long. There are already more than 100 space startups in India and collectively they have raised more than $245.35 million in funding. In November 2022, Indian aerospace startup, Hyderabad-based Skyroot launched the country's first privately made rocket "Vikram-S".
China's space market has grown more than 20 per cent in the past few years, and is the world's second-largest commercial satellite owner after the US. As of December 2022 the Chinese reconnaissance and remote sensing fleet consisted of more than 240 satellites. The PLA owns and operates about half of these systems. China's light, quick response space launch vehicles are capable of expedited launches, and have military implications. These require little launch infrastructure, can relocate by road or rail, can be stored launch-ready for longer periods. 3D-printing in space could allow China to nearly eliminate the cost of space launch by servicing, repairing, or manufacturing new systems entirely on orbit.
China's space program requires a close watch. It has serious implications for its adversaries, including India. The high investment is difficult to match. India would need to keep pushing its space program to not let the gap grow too large.
The writer is Director General, Centre for Air Power Studies. Views expressed are personal